February 12th by admin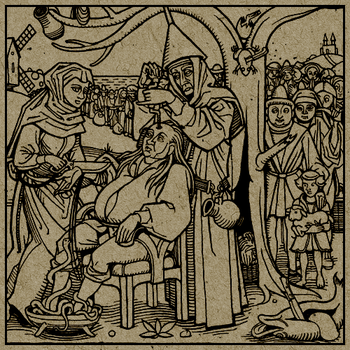 There's not a lot of new music I enjoy these days. Not just from the Industrial scene, but any scene really. Every day more and more shit gets pumped out, attempting to flood the airwaves, the social networks, the torrent and blog sites. It gets harder and harder to wade through the wash, trying to find the type of things you truly enjoy. And so you cling to your classic's and make barricades against the deluge of mud and crud. You become a bit elitist and closed minded with your open minded musical tastes. And then just as you are ready to give up, you stumble across a bright and shining jewel that shatters those barricades to pieces and reminds you that have not heard it all, creativity is not yet dead, there is hope after all.
I, Parasite's most recent opus "The Sick Are Not Healing" are one of those rare jewels, and has left my ears feeling refreshed and renewed. I literally have not a single complaint about anything featured on this album. The production is rock fucking solid. The vocals raw and full of emotion. The electronics are dark and intensely innovative. No presets or samples out of the can here. The guitar is shredding and harsh, just the way I like it. But not so much that it drowns out all of the many other elements contained within each and every song, such as cascading and reversing piano lines, foreboding drones, screeching feedback, ominous strings, lo-fi organs, pounding rhythmical drum lines, and even an ice cold and disenchanting flute solo.
It is near impossible to pigeonhole this album into a single genre, or compare with any other single band. Is it Industrial Rock? Sure. Heavy Metal? Why not. Experimental Electronic? yes indeed. The Sick Are Not Healing are all of these, and yet none of these. If I had to try and compare to another band, I would say I hear the atmospheric epicness of Pink Floyd, the grunginess of Nirvana, the psychological complexity of Tool, the experimental yet surgical electronics of Nine Inch Nails, and the raw emotional "I don't give a fuck what you think" vocals of early Industrial Rock bands like Filter, 16 Volt, or Ministry. At times the vocals are whispering in your ear, intimately inviting you closer. Other times screaming and in full blown rage, warning you to keep your distance from this troubled soul.
While this album will carry you on an emotional roller coaster ride of ups and downs, presenting the listener with sonic blasts of sound one moment, only to spin you around and hit you with minimalistic ambiance and build ups the next, there is never a boring or awkward moment. Everything flows together, weaving together some unexplainable chaotic system that pulls your mind in and does not let go. Ten tracks of pure perfection. As I begin to rebuild my barricades and regain my elitist composure, I will be taking this album with me. This is a modern day classic. The type of album that you can push play and leave it on repeat. This is music worth paying for.
The Sick Are Not Healing
by, I, Parasite
5/5 stars – VanEck
Category: 15-Other Reviews |
9 |
Tags: album reviews, i parasite, the sick are not healing